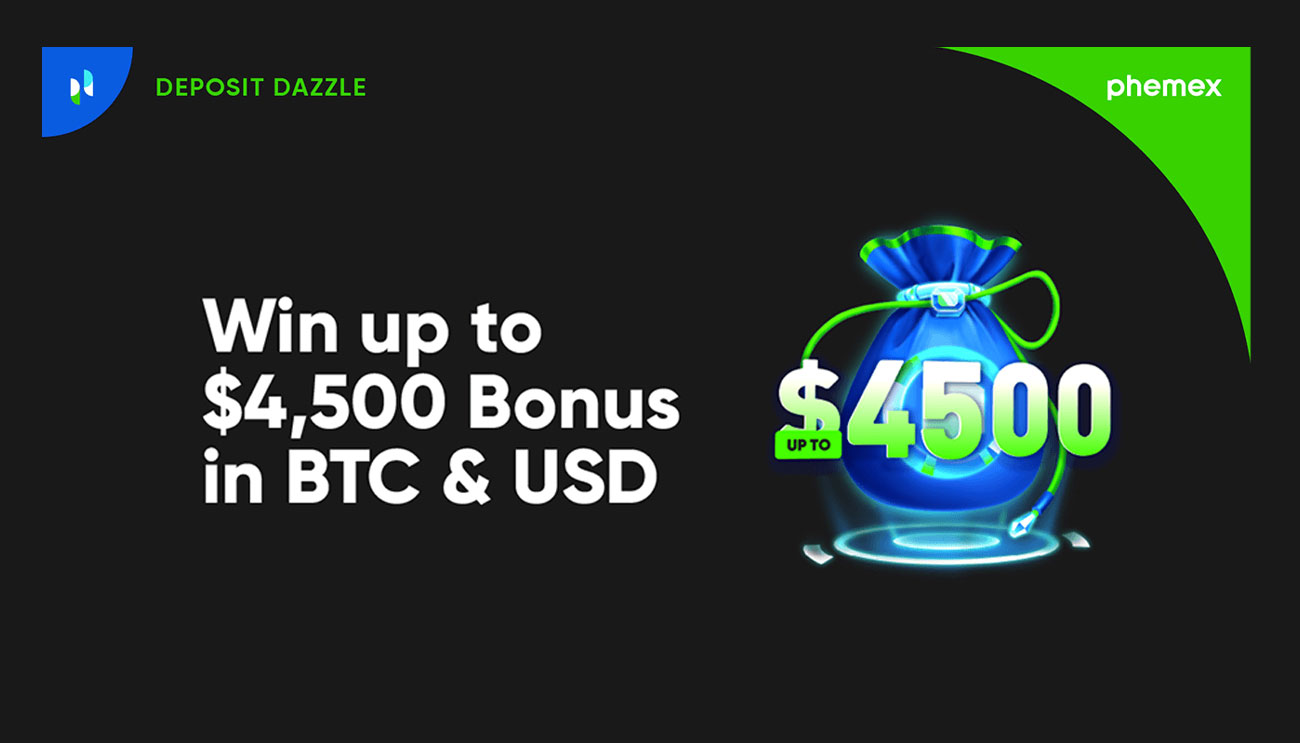 Singapore-based cryptocurrency exchange, Phemex is grabbing all the attention in the crypto space recently. Not only did Phemex add a wide range of tokens to its spot and contract trading market, it is bringing back its popular Deposit Dazzle event and offering all avid traders a new Bitcoin and USD Bonus to grab! With the Phemex Deposit Dazzle, you can earn a crypto bonus of up to $4,500 in BTC and USD!
The best part is, the event is easy to access and basically anyone can meet the minimum deposit requirements.
Phemex was founded in 2019 by Jack Tao and seven other former Morgan Stanley executives to drive financial inclusivity. Phemex seeks to create the world's most reliable cryptocurrency derivatives trading platform. As they continue expanding with their community, they put their clients first and never compromise or quit their solid commitment to providing the most outstanding quality products and services.
What is the Phemex Deposit Dazzle?
Long story short, the Phemex Deposit Dazzle is a BTC and USD giveaway. Users can get a bonus in Bitcoin and USD for depositing BTC or USD on the platform. You'll receive a trading bonus for depositing at least 0.1 BTC into a spot wallet, then transferring it to your BTC trading account.
The bonus varies depending on your net deposit, starting from $10 (for the minimum deposit of at least 0.005 BTC or at least 200 USD) and goes all the way up to $2,000 (for deposits of at least 2 BTC.)
Here is the complete deposit-reward scheme: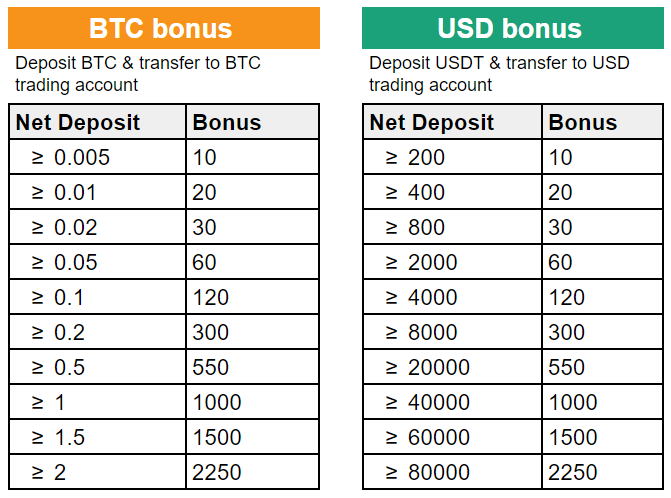 Dates
[Stage 1] Deposit and Transfer: 0:00 UTC from May 18 to June 1, 2022 [Stage 2] Bonus Calculation: 0:00 UTC from June 1 to June 15, 2022 [Stage 3] Bonus distribution: June 15, 2022
Terms and conditions
New Deposits must be transferred into your BTC or USD trading account to participate in this promotion. If you choose to deposit BTC, please transfer your BTC to your BTC trading account, if you choose to deposit USDT, please transfer your USDT to your USD trading account.
You can freely trade with the funds you transferred into your trading account. Neither losses nor profits will be factored into your original Net Deposit amount to calculate your reward.
Participants can receive trading bonuses in both their BTC and USD trading accounts, as long as corresponding currencies are correctly deposited during the campaign period.
Net Deposit=Total Deposits during deposit period – Total Withdrawals until bonus distribution. Withdrawing before bonus distribution may cause your reward to be lower.
All deposits made during this promotional period must remain in your BTC or USDT trading account until you receive your bonus. Transferring out beforehand will disqualify you from the promotion.
Rewards will be distributed as BTC or USDT trading bonuses to your trading account based on which account you transferred your assets into. Please refer to our Bonus Terms and Conditions for more details.
Only new deposits made within this promotional period will be counted. Transferring pre-existing funds from your spot wallet to your trading account will not count.
This promotion is strictly for BTC and USDT deposits only. Other cryptocurrency deposits will not be counted.
You can only participate in this event with your main account.
Title: Public Relations Manager
Email: [email protected]
Location: Singapore
Disclaimer: The information provided in this release is not investment advice, financial advice or trading advice. All readers are encouraged to do their own research.
SOURCE: PHEMEX