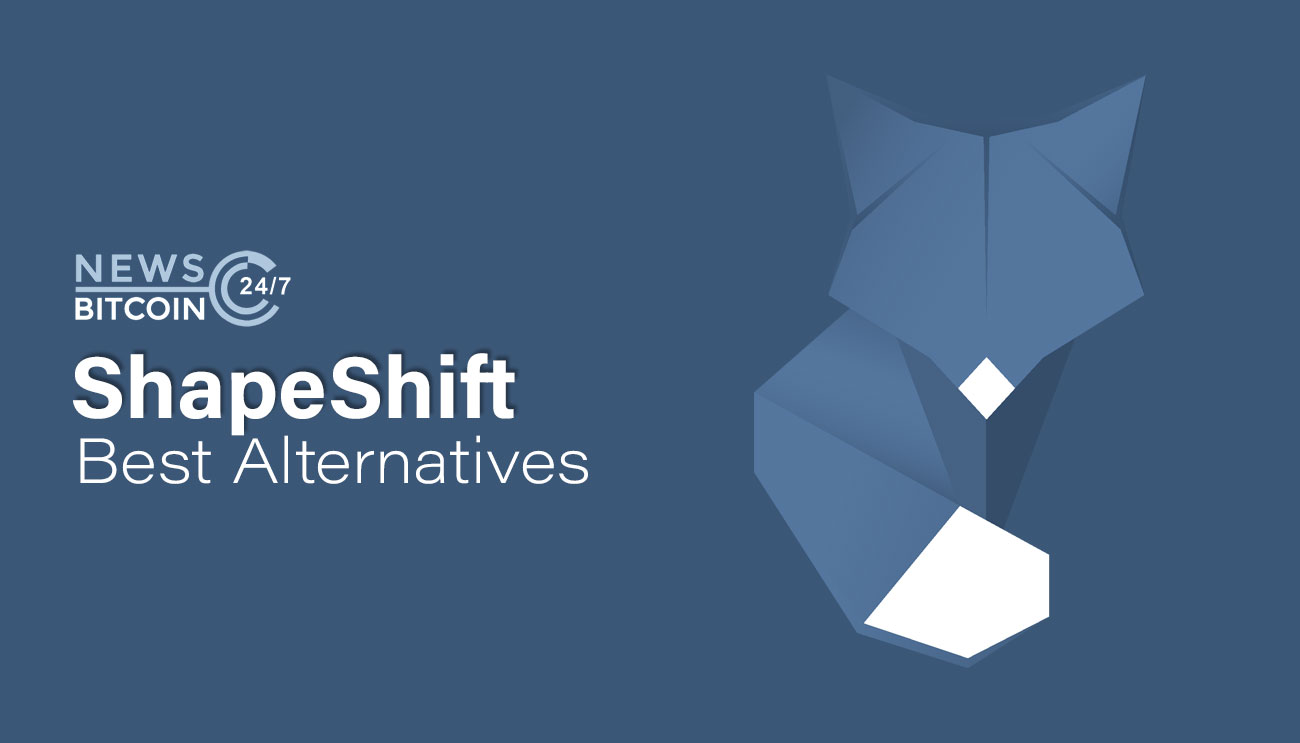 Many shapeshift users would have been searching for shapeshift alternatives since the most used coin swapper shapeshift have changed their business model and now require KYC to do so.
We have already compiled a comprehensive list of best shapeshift alternatives that might help you in this regard. Established in 2013, shapeshift was one of the major cryptocurrency swap platforms ever developed. But this is past tense now. Ever since users won't be able to trade without giving away their basic personal information. Let's dive into this!
Alternatives for shapeshift which doesn't require KYC registration.
Located in Belize City, Changenow is an instant crypto exchange where you can exchange more than 200 cryptos more quickly and without any limits. It is a highly trustworthy & incredible trading platform.
It does not require the user to create an account to use its services as you can use the exchange being anonymous.

Users can exchange their coins in a convenient and fast way without any registration. Neither have they required you to fill any KYC form. It is a non-custodial crypto trading platform and requires you to have your own wallet to store coins that minimize security risks.
There are more than 30,000 trading pairs and 200 cryptocurrencies available. The exchange lets its users swap as much as they want without any exchange limits. They charge a transaction fee of about 0.5% to 4% on every swap only if the swap is executed successfully.
There are some geological locations in which it is not available i.e. Sudan, Bolivia, North Korea, Syria, Crimea, and Bangladesh. You can use their services in your bilingual language as the website offers 28 different languages for your convenience.
Based in India, Coinswitch is a website that lets its users buy and exchange a wide range of cryptocurrencies. The website works as an integrator.
Users can buy and exchange cryptos at best rates by integrating with various other exchanges. The service supports multiple ranges of coins and is very efficient to use for customers.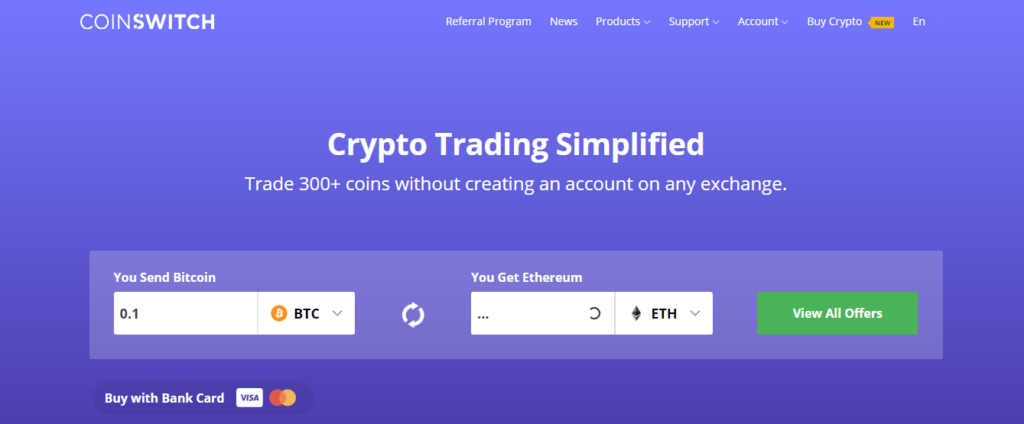 The service provides 45,000 trading pairs and more than 300 cryptocurrencies for trading.  There are many other exchanges that users can access from Coinswitch i.e. Changelly and HitBTC.
Similarly, users can trade on the service by having no account. It means that you can use their services anonymously. It also offers different external wallets (Ledger and MetaMask). Unlike other platforms, Coinswitch is providing its services worldwide.
You can purchase more than 100 cryptos through your credit cards. The option of fiat currencies is also available but it a bit expensive.
The fees they charge are a little bit hidden or complicated to understand but for the safe side they charge around 0% to 0.5% on every transaction you perform on the platform. The platform has done a smooth job and is surely filling the gap of the alternative platforms.
Godex is an exchange site for cryptocurrencies that allows users to swap between various cryptocurrencies privately. It was released in 2018 and tends to focus on accessibility and an excellent user interface.
Users will not have to make an account to swap and exchange between different cryptocurrencies. Godex offers around 200 cryptocurrencies including some of the major cryptos like Ethereum, bitcoin, and some altcoins as well. Although it doesn't support any fiat currencies which is a major disadvantage.

The interface of the website is very user friendly and easy to use for new users. The service doesn't require any personal information from the user to get started.
Trading cryptocurrencies on Godex is very simple. You just have to select which crypto you want to sell and in return which crypto you want. As per their website, it takes almost 17 seconds to execute a transaction which is quite fast.
Privacy is always the main concern for many users of cryptocurrencies and Godex aims to provide excellent security protocols for its privacy-focused audience.
When you start trading on Godex, the rate that you are offered at the start of your transaction is the same rate you will get in return from your trading. This function is really helpful to protect you against unexpected changes that occur during the trading.
Like all other websites, we have mentioned here, SimpleSwap is also is on the verge to support anonymous trading. it is an efficient & user-friendly crypto trading platform.
You don't have to sign up for their website to use their services. SimpleSwap supports over 300 crypto coins. They have quoted their exchange process as easy as "shopping trip".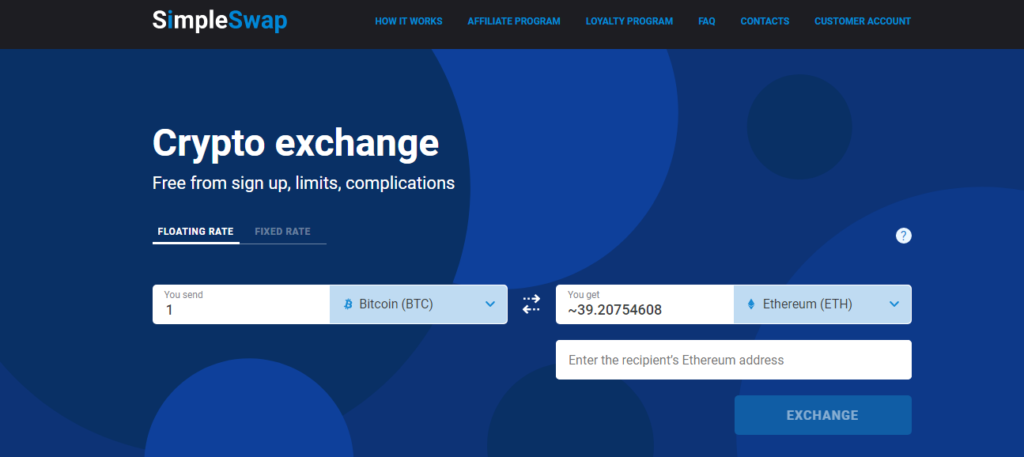 The exchange process on SimpleSwap is quite safe, stable, and doesn't lack any loopholes. There are two type of crypto exchanges that SimpleSwap offers.
Fixed-rate and floating rate. The users always have the option to choose the best type based on their research and investment that they are going to make. It also offers loyalty programs and affiliate programs to its customers and partners.
The website offers tremendous and skilled customer support to its users. As the platform works with more than 15 exchange partners and trading platforms so the customers won't face any difficulty in choosing the best exchange rate as they guarantee to offer the best prices to their customers in every sort of way that they can.
The company is based in the Cayman Islands. Blocktrades isn't a centralized exchange platform, and you can't keep the cryptos in it.
It offers trading facilities and after the exchange, it transfers your cryptos from one wallet to another. As it is not a centralized exchange, it surely saves a lot of time, trouble, and hassle of registering yourself and making an account on the website. In this regard, blocktrades give you the safest and anonymous way to exchange with cryptos.

The market engine of Blocktrades searches multiple other exchange platforms to give you the best prices. Blocktrades themselves do not set the price limits, and instead of they take their conversion rates through different crypto market paths.
In a good sense, the website is very simple and easy to use. There is no complexity. The process is simple. Just enter your email and do the exchange instantly. You can also trade through Block trade's build-in steemit interface.
You do not need to keep a balance on the site, unlike a traditional exchange. Instead, just send in the amount of cryptocurrency you want to spend and the exchange will transfer the equivalent amount of crypto you are buying into your wallet. This saves you from the possible losses if you hold your crypto in exchange which is vulnerable to hacking attacks.
Why Flypme and Morphtoken are not listed.
Well, some people might have noticed that both of these Flypme and Morphtoken are not listed, and that is for a good reason. We here, always compile lists based on user reviews and how much on the bigger scope the service is being used.
For now, we think that both of these websites have no good reviews on Trustpilot which is a solid reason to not include these into our list.
Conclusion:
Ever since shapeshift has imposed the KYC process, it has made them lose key features to its running success. But there were few alternatives that we have discussed above that might help you in some way.
The common issue among them is they charge fees from users so frankly compared to shapeshift that is something you can't ignore if you are going to use these alternatives.
They usually add the fee in the price tag so while making transactions and swapping there are no hidden charges or add-on fees that you will charges. Make sure to double-check everything before making transactions and also make sure that you're pretty awesome with the amounts shown on the screen.  
Have you ever used any Shapeshift alternative or any cryptocurrency changer? How was your experience? Let us know in the comments below. We would love to hear about it!
Shapeshift Frequently Asked Questions (FAQs):
Does shapeshift require KYC or Is shapeshift anonymous?
IN past, shapeshift doesn't require any KYC to make transactions. But this is past tense now. From now on due to regulatory changes, shapeshift require KYC from its users in order to use their services.
is shapeshift legit?
Yes, shapeshift is a registered exchange and legit one.