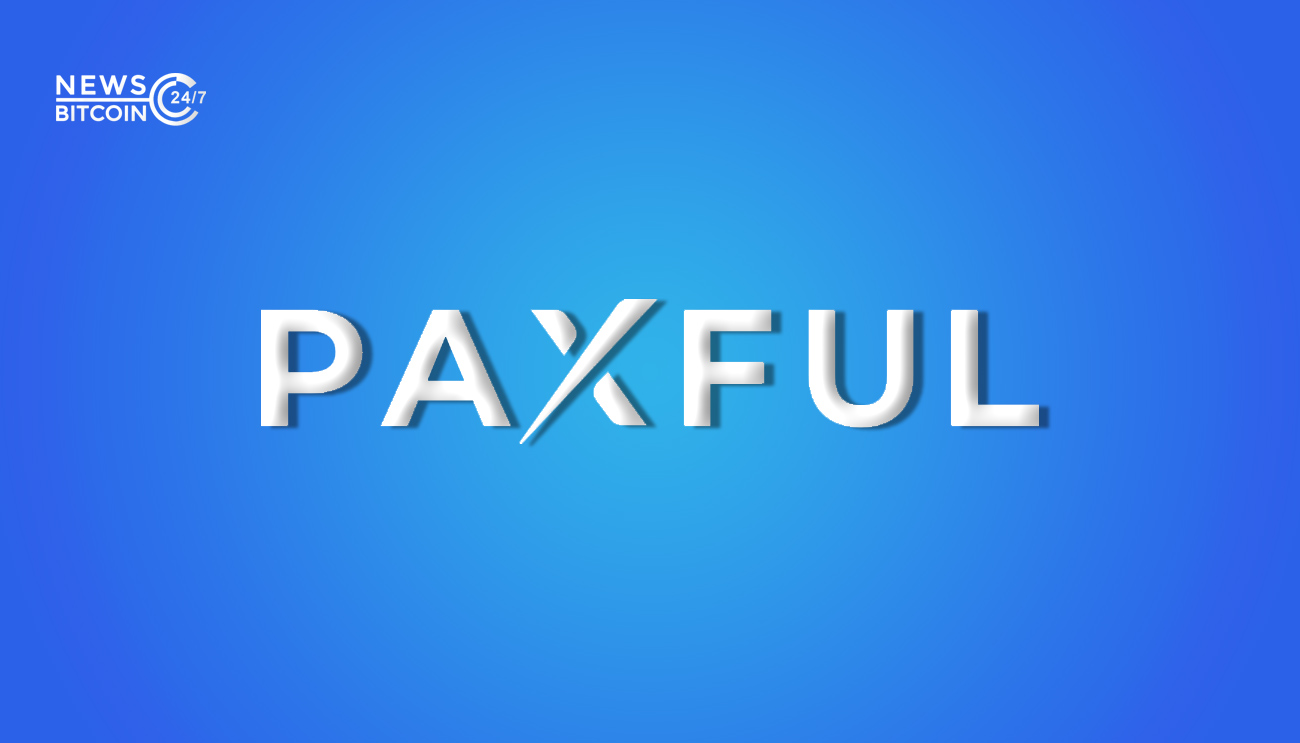 In this era of bitcoin trading, people want to trade bitcoin anonymously with the facility of peer-to-peer trading. Paxful crypto exchange could be one of the best options for them. It is a P2P marketplace where users can contact each other to buy and sell bitcoins in a convenient and private way with the facility of more than 300 payment options available on Paxful. The most important thing about Paxful is that it also supports PayPal on its platform which is not supported on many of the major P2P crypto exchanges. Let's have a closer look at Paxful crypto exchange.
About Paxful
Paxful exchange is based in the U.S. and a group of developers namely Ray Youssef and Artur Schaback established this prominent cryptocurrency exchange in 2015. The crypto exchange Paxful is the safest peer-to-peer marketplace that lets users buy and sell bitcoin.

Paxful aims to deliver working people a simple, fair and secure platform for trading the value of their work. For the Bitcoin community, Paxful serves as PayPal + Uber. It is a global peer-to-peer payment logistics platform that is committed to facilitate Bitcoin trading just like eBay does in the case of the trading of everyday goods.
This P2P crypto exchange is rapidly expanding with over 200 employees around the world with offices in New York City USA, Hong Kong, Tallinn Estonia, and Manila Philippines.
---
Services that Paxful offers
Apart from providing the facility of peer-to-peer trading, Paxful has also some other useful services to offer to its customers. These are:
The Paxful Wallet: Paxful offers you a safe and reliable bitcoin wallet. The Paxful wallet is Simple and secure, whether you're buying, selling, storing, or using your bitcoin. This online wallet solution offers best-in-class security features and the convenience of having your bitcoin be available to you 24/7 from any device.
Paxful Mobile App: Paxful has a bitcoin wallet app that makes it easy for you to send, receive, and trade bitcoin on the move. The benefit of having a bitcoin wallet app is that you can trade anywhere, anytime. This mobile wallet app is full of features such as it lets you trade bitcoin in your own private cryptocurrency wallet and you can also track your open trades on Paxful with the help of this app. You can get this app on the Google Play Store and Apple Store as well.
Virtual bitcoin kiosk: This is one of those Paxful's services that you would love to use. The Virtual bitcoin kiosk is actually a widget that you can place on your blog, website, mobile app, YouTube channel or social media and lets you earn a 2% commission on every purchase made through your kiosk. To get started with the Virtual bitcoin kiosk, you have to go through three steps: sign up and get your link, copy your link, and share your link.
---
Localbitcoins Review 2022 [Full Guide] Safe Or Not?
---
How to use Paxful to buy Bitcoin
In order to start using Paxful, you will have to create a free account and get access to your free e-wallet. Buying bitcoin on Paxful is very simple. Just follow these steps given below:
Step-1: Sign up by creating an account and you will automatically get a free bitcoin wallet.
Step-2: Once you get the bitcoin wallet, then select a payment mode and an amount of bitcoin that you want to purchase.
Step-3: Then you have to find a suitable offer from the list of available offers and choose the offer that best matches your requirements.
Step-4: If you get satisfied with your offer you can start live trading with the seller. After that, follow the instructions of the seller to make the payment and confirm it.
Step-5: In the end, you will receive the bitcoins from the seller directly into your Paxful bitcoin wallet.
You can also watch this video on how to buy bitcoin instantly on Paxful.
Buy Bitcoin with PayPal: Mostly, people prefer to buy bitcoin by using PayPal. For them, the Paxful marketplace is the best place to buy bitcoin with PayPal. They can use PayPal to sell and buy bitcoin instantly and securely on Paxful.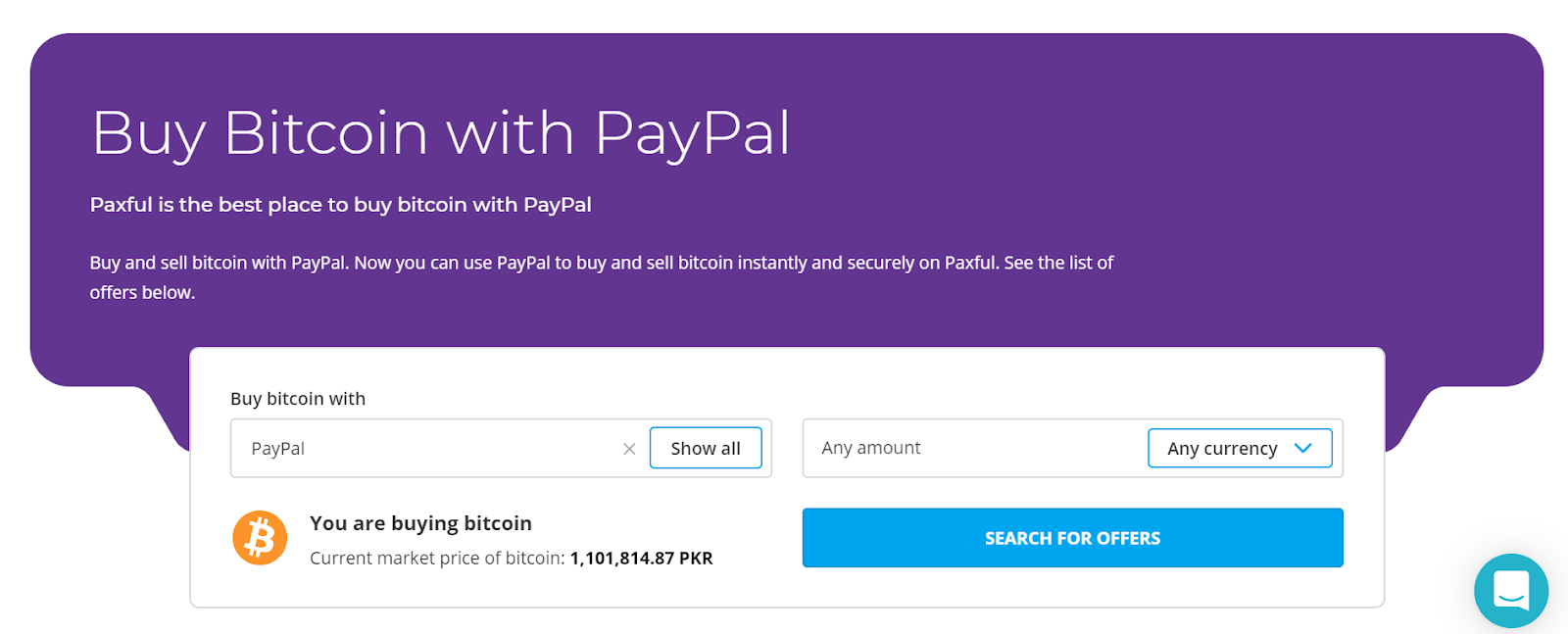 ---
Paxful Payment Options
Plenty of payment options are available on Paxful. Payment options are divided into six main categories. These are bank transfers, Credit/Debit Cards, Digital Currencies, Online Wallets, Cash, and Gift Cards.
There are more than 300 payment methods that are supported on this P2P marketplace including some famous payment methods such as credit cards, PayPal, Amazon gift cards, wire transfers, and Western Union. You can choose from these various payment options available while buying or selling bitcoin.

---
Paxful fees
Paxful does not charge any kind of fee when you buy bitcoin. However, when you sell bitcoin you will get charged by the company depending on the method of payment you accept for selling your bitcoin. The fee schedule for selling bitcoin is 0.5% for Bank Transfers, 1% for Credit&Debit Cards/Digital Currencies/Online Wallets/Cash while in case of Gift cards: 5% for iTunes and Google Play, 2% for every other gift card.
---
Bitcoin Fear And Greed Index Everything You Need to Know
---
Paxful supported countries and currencies
The U.S. based crypto exchange Paxful is available across the whole world. However, there are some countries that are not supported here. These are Burundi, Central African Republic Sanctions, Cuba, Crimea region, Iran, Iraq, Lebanon, Libya, North Korea, Somalia, South Sudan-related Sanctions, Sudan and Darfur, Syria, Yemen.
In the case of supported currencies, only the leading digital asset bitcoin (BTC) is supported on Paxful. You can trade only bitcoin here.
---
What benefits can you get with Paxful?
The followings are the benefits you can get while trading with Paxful:
You can buy bitcoin on Paxful in real-time and you can sell your bitcoin at your chosen rate, and get paid in one of the numerous payment methods.
You can trade with Paxful's secure escrow where your bitcoins remain safe and secure until your trade gets completed.
You can get a life-time free bitcoin wallet maintained by BitGo, the leading provider of secure bitcoin wallets.
You can also take advantage of its affiliate program to earn extra income.
---
Paxful customer support and reviews
Paxful provides an exceptional customer support service. The company has its own help center available 24/7 for customers' help. The company has also listed a list of FAQs on its site.
If we talk about customer reviews, Paxful has got mixed kinds of reviews. According to the Trustpilot customer reviews, some have shown positive responses favoring the crypto exchange while some have shown a negative response about Paxful.
---
FAQs – Frequently Asked Questions
Who owns Paxful?
Ryam Azab Youssef is the eventual Paxful founder.
How to login on Paxful?
In order to log in on Paxful, you will first have to get yourself registered on the site and create your account.
Sign up: https://paxful.com/register
Login: https://paxful.com/login
How do you make money with Paxful?
You can make money on Paxful by joining their referral program, you will get a referral link, share it with your friends and once your friend signup using your link, you will a % of trading fee.
Can you get scammed on Paxful?
Once your bitcoins get entered into the Paxful escrow then they are safe and protected, hence no chance of getting scammed.
Is Paxful a good wallet?
The Paxful Wallet has over 3 million wallets created, 40,000 BTC transacted, and offers the best-in-class security features. These features make it a good wallet.
How do you cancel a trade on Paxful?
As a vendor on Paxful, there is no way for you to cancel a trade. However, you may report the unresponsive behavior of the guy.
How do you win a dispute on Paxful?
Firstly, head over to the trade page and click dispute. After that, provide a clear reason with supporting documentation and materials as to why you are doing it and provide as much evidence as you can to increase your chances of winning a dispute.
How long is a Paxful dispute?
If you have a dispute on Paxful you will have to wait for 20–60 minutes before it is solved but it can also take days or weeks as well.
Is Paxful legit?
Paxful is the safest peer-to-peer marketplace to trade bitcoin instantly. Your bitcoins remain safe and protected from scammers on Paxful because of the escrow feature.
---
Conclusion
Paxful is the most suitable choice for both beginners and professional traders especially for those who find it difficult to purchase bitcoin on other crypto exchanges as they get various buying opportunities here on this online peer-to-peer marketplace. They get a vast range of payment options available on Paxful including PayPal. Paxful also offers the facility of escrow to keep your bitcoins safe and secure.