Bitcoin
How To Exchange Gift Cards For Bitcoin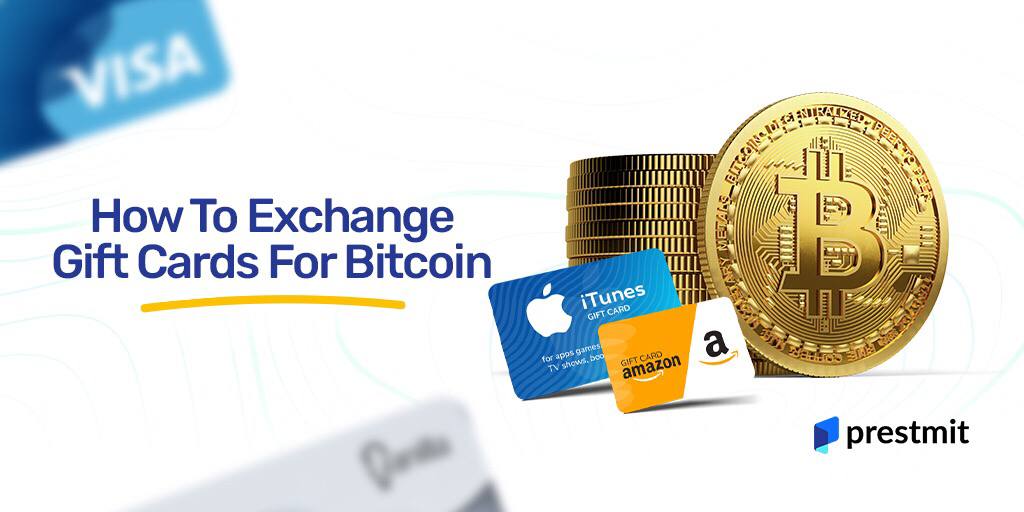 Gift Cards are not just limited to purchasing items and redeeming gifts online and offline. Over the years, people have leveraged Gift Cards in so many ways which includes exchanging the Gift Cards for cash and crypto. If you're a cryptocurrency lover, the best shot for you is to exchange your Gift Card for Bitcoin.
However, there are many ways you can do this, like finding someone who needs your Gift Card and has the money or crypto you desire. Isn't that a lot of stress?
The best way to sell your Gift Cards is to go through a platform that offers the service of accepting Gift Cards for cash or Bitcoin. In this article, we would discuss extensively, how you can trade Gift Cards for Bitcoin, the best app to sell your Gift Card for Bitcoin and other vital information you need to know.
What Are Gift Cards?
A gift card is a prepaid debit card with a preloaded amount of money on it that may be used for a range of purchases. Store gift cards are designed to be used at specific merchants or stores, whereas general-use prepaid gift cards are not tied to any specific merchant and can be used to withdraw cash from ATMs.
Gift cards are a type of prepaid debit card that may be loaded with money and used later. Gift cards are divided into two categories: open loop and closed loop.
While open loop Gift Cards are accepted almost anywhere that brand of card is accepted, closed looped Gift Cards can only be accepted in the specific retailer that issued the card. Both types are commonly utilized both online and in person.
There will be a minimum and maximum initial loading amount on many gift cards. There could be a minimum of $10 and a maximum of $500, for example. Gift cards can be used to pay for a portion of a transaction in some cases, with cash, debit, or credit being used to make up the difference. Many gift cards can be registered online as a precaution to reduce the risk of losses, allowing the remaining amount to be tracked and frozen if the card is lost. Some gift cards are safer than cash in this sense.
What Is Bitcoin?
In a white paper published in 2008, Satoshi Nakamoto, a pseudonymous individual or group, designed Bitcoin. Bitcoin is a digital currency that allows for safe peer-to-peer transactions over the internet, and it's a very straightforward concept.
Bitcoin promises lower transaction fees than other online payment systems, and unlike government-issued currencies, it is managed by a decentralized authority.
Because Bitcoin is encrypted, it is classified as a cryptocurrency. There are no real bitcoins; instead, balances are kept on a public ledger that anybody can access, though each record is encrypted.
Best App To Exchange Gift Card For Bitcoin
There are numerous gift card trading apps available on the internet. It's understandable that Gift Card holders may be scared to exchange their Gift Cards for Bitcoins because they are oblivious of the best app to use.
However, using a dubious app to engage in any form of Gift Card trading will definitely cause any or both of these problems. It is either you get a very low rate for your trade or lose your assets.
The question is, what platform can I sell Gift Cards for Bitcoins without being duped and yet get the best rates?
ABOUT PRESTMIT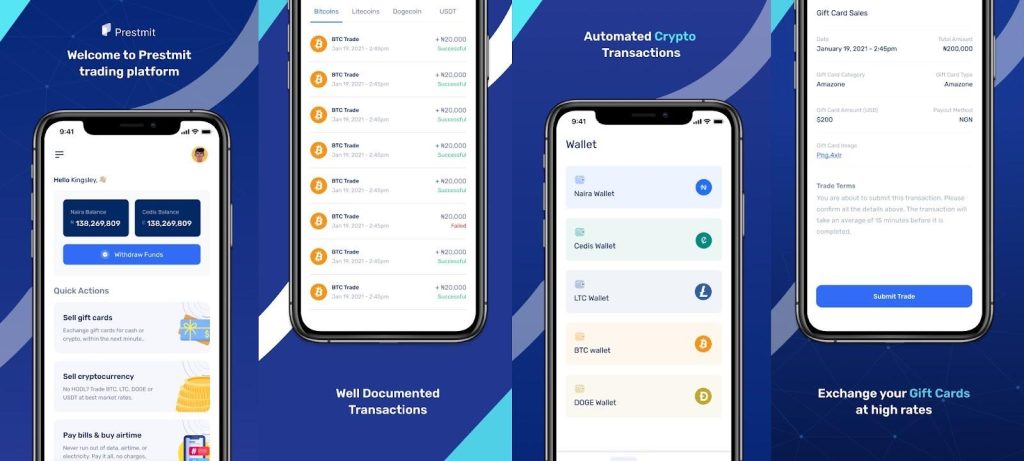 The Prestmit mobile app is the best platform to sell Gift Cards today. The platform is prominent for its ability to make Gift Card exchanging a stress-free experience. Prestmit is a popular gift card trading platform in Africa, especially Nigeria and Ghana because of its unique features, which include:
1.   Good User Experience and Interface:
Given the user-friendly nature of the Prestmit app, it is quite easy to navigate and trade with. You do not need to browse the app's manual before you can start trading.
2.   Live Chat:
All complaints and reviews aired on the live chat feature of the app, are swiftly taken care of by the customer service representatives.
Having an issue with your trade? Just hit the live chat button and get it over with.
3.   Security:
Nobody will like to trade on an app that exposes their personal information to scammers and other cybercriminals. Prestmit is a security-focused app that can withstand any cyber-attack.
4.   Best Rates:
Prestmit offers the most competitive prices on the market. The Gift Card rate calculator is a function of the Prestmit app. It's automated and you can use it to keep track of the current rate of numerous Gift Cards in Naira, Cedis, USDT and Bitcoin.
5.   Instant Payment:
Prestmit allows users to request a withdrawal and receive funds in less than five minutes. When it comes to Gift Card exchange, Prestmit is known for its adaptability. Even if the Gift Cards are used abroad, you can sell a large number of them.
6.   Multiple Payment Options:
Prestmit does not restrict Gift Card traders to accepting only one type of payment. Prestmit app users can be paid for their Gift Cards with cash transfers (Naira and Cedis), Bitcoin, or USDT.
This will drive us to the main topic of the article which is "how to exchange gift card for Bitcoin"
How To Exchange Gift Card For Bitcoin On Prestmit
Congratulations, if you've made it this far, we assume it is because you're hellbent on learning how to quickly exchange your Gift Card for Bitcoin. Even if you don't have a Gift Card at the moment, this information could be useful in the future.
Login to the Prestmit app after creating an account.
Click on "Sell Gift Cards"
Select " Gift Card Category" and choose the category of the Gift Card you want to exchange. For example, Amazon Gift Card.
Select "Gift Card Type" and choose the exact type of that Gift Card category. For example, USA Amazon Cash Receipt(101-200). This means USA Amazon Cash Receipt between  $101-$200.
Select "Amount" and input the exact amount of the Gift Card you want to trade for Bitcoin.
Upload the Gift Card image if you are trading the physical Gift Card.
Select the payout method. The available payout options are Naira, Cedis, USDT and Bitcoin. Since the goal is to sell the Gift Card for Bitcoin, select "Bitcoin" as the payout method.
Enter the "Bitcoin Address" and add any comment such as the Gift Card code (if you have it as E-code) in the comment section. By this time, you should see the Bitcoin rate for your chosen Gift Card and type.
Finally, click "APPLY" and your payment will arrive in a few minutes.
Conclusion
In summary, it is not rocket science to sell Gift Cards for Bitcoin from anywhere, especially in Nigeria. The first step to a successful Gift Card trade for Bitcoin is to find the right platform where this trade can be completed successfully.
A platform like Prestmit is the best platform for this kind of trade and the most amazing thing is that you get a Bitcoin wallet where you can store your Bitcoin, once you download and register on the Prestmit app