Press Release
Calling Avid NFT Gamers! Win $100,000 in YGG with Phemex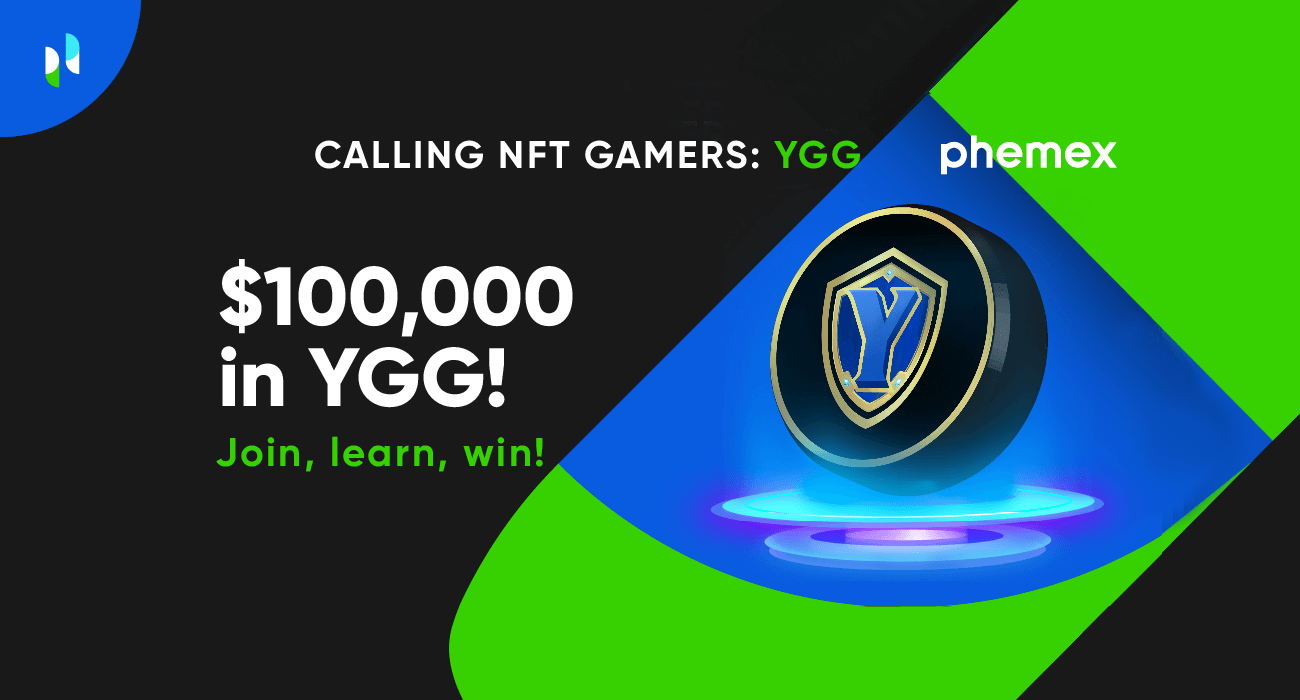 The world witnessed a surge in popularity of NFTs over the last two years. Undeniably, blockchain is at the forefront of the Metaverse movement, bringing the concept of digital ownership to the public. The boundaries between our physical and digital bodies will begin to blur as we move closer to bringing the Metaverse to life, and having a secure mechanism to manage financial assets in this environment will become increasingly crucial.
Phemex, a top Singapore-based digital asset exchange, has been a vocal supporter of the Metaverse movement, hosting campaigns, events, and giveaways throughout the year to promote the Web3 revolution. The exchange hosted various fun and exciting campaigns related to NFT and the Metaverse.
The Metaverse World
With the listing of Yield Guild Games' native token, YGG, Phemex is demonstrating its commitment to the space. Yield Guild Games is one of the most popular play-to-earn platforms, with a blockchain-based economy in the works. To achieve their goal of "onboarding the masses to the metaverse," YGG collaborates with games and groups. To date, YGG has partnered with approximately 50 different games and invested nearly $10 million in the development of metaverse ecosystems. Axie Infinity and League of Kingdoms are two of the already released play-to-earn atmospheres that are part of the partnership. The Yield Guild Open, the first-ever YGG-hosted competition, many community events and community streams, a 'YGG Axie Bootcamp,' and much more took place in 2021.
Calling NFT Gamers!

If you want to  learn more about the NFT market while also winning some free crypto, join the Phemex NFT Gamers campaign and win up to $100,000 in YGG!
Phemex is giving away YGG tokens worth up to $100,000 from Yield Guild Games, one of the most well-known crypto projects in the Metaverse. All newly registered users who participate in this campaign will be entered into a lucky draw to win $20 in YGG, and everyone who correctly answers a question and shares the Phemex Academy article will be placed into a lucky draw to win further prizes. Furthermore, everyone who registers will receive a complimentary copy of our premium, 25-page research paper — NFTs in 2022! You may increase your NFT knowledge and start making money in the NFT market with the information!
Dates
There are three stages to the campaign. The most crucial is the campaign period, then winners will be announced, and finally prizes distributed. Find the timeline below.
Stage 1 (Campaign Period): April 29, 2022 – May 11, 2022
Stage 2 (Notification of Winners): May 13, 2022
Stage 3 (Prize Distribution): From May 20, 2022
Prize Pools – $100,000 in YGG
There are two separate prize pools totaling $100,000! The first of which is only open to new users while the second one is open to all. All event participants will also receive Phemex's exclusive "NFTs in 2022" research report, so you can start making profits in the red-hot NFT market. See below for more details on all prizes.
Prize Pool 1: $60,000 in YGG (First-come, First Serve)
This prize pool is only available for new users who register to Phemex using the campaign actions above
The first 3,000 eligible users will split this prize pool
Each lucky winner will win $20 in YGG each
Prize Pool 2: $40,000 in YGG (Lucky Draw)
This prize pool is available for new and existing users who read Phemex Academy article, correctly answer the question about YGG, and share the Phemex Academy.
All eligible users will be entered into a lucky draw, prize structure below:
$10,000 x 1 lucky winner
$8,000 x 3 lucky winners
$1,000 x 4 lucky winners
$20 x 200 lucky winners
Special Prize: Phemex Deluxe Report – NFTs in 2022
All campaign participants will be emailed our deluxe research report on "NFTs in 2022" after the event.
Get insider insights about the explosive NFT market. Use the guide to make profits on NFTs!