Press Release
Phemex Announces Q aRt – Their First NFT Created by the Community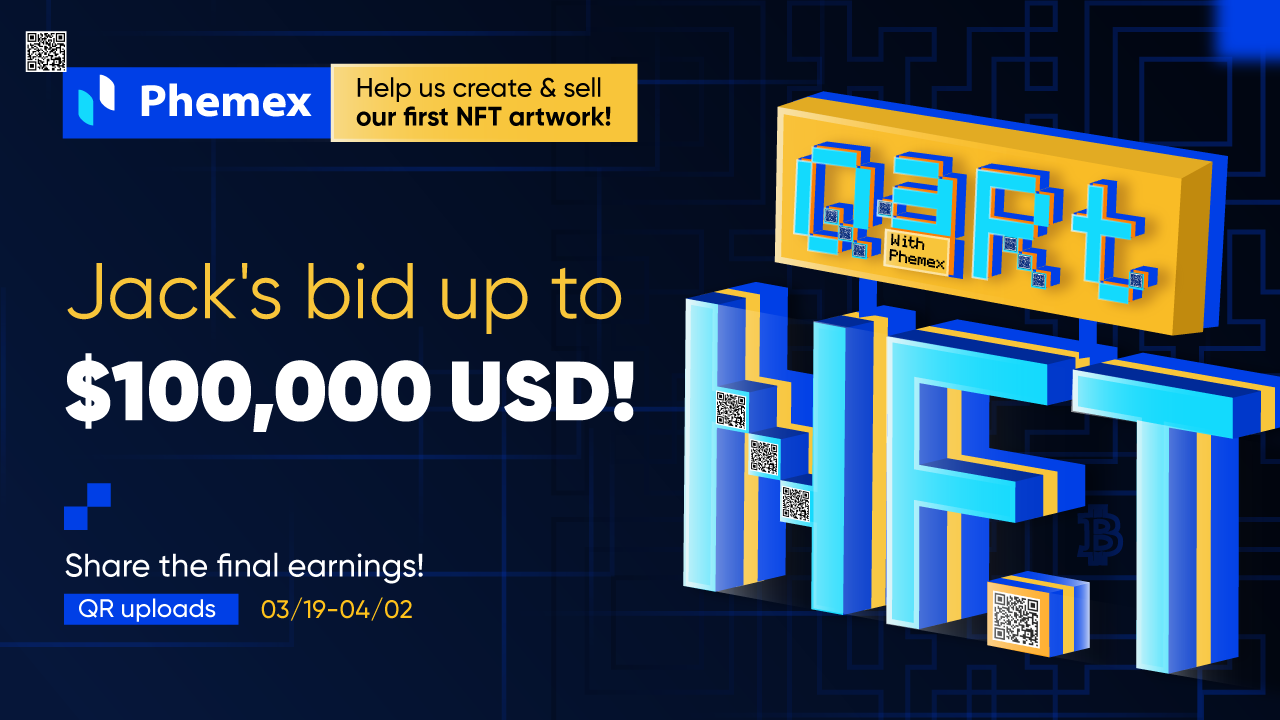 Phemex just announced Q aRt, an event that will create an NFT using the QR codes of all the participants.
Once created, the NFT art piece will be auctioned, and all participants will have a shot at winning a part of the final bid.
A summary of NFTs
In case you somehow missed all the craze about NFTs, here's a quick breakdown.
NFTs, or Non-Fungible Tokens, are goods that are irreplaceable, unique, and limited in quantity minted in the form of a token.
They can take the form of art, music, ownership titles, collectibles, and even tweets. Such was the case with Jack Dorsey's first-ever tweet, which was recently sold as an NFT for the equivalent of $2.9m.
Various other public figures joined the NFT craze, such as Elon Musk, who wanted to use a song as an NFT (but later decided against it), Lindsay Lohan, and even Taco Bell.
Everything you need to know about Q aRt
Q aRt will be the first-ever NFT created by Phemex, and it will require the help and participation of its users. The company will use all the participants' QR codes to create an art piece, which will then be auctioned on OpenSea.
Phemex will be collecting QR codes between March 19th, 3 PM UTC and April 2nd, 3 PM UTC.
To participate, all you need to do is submit your Phemex ETH deposit wallet QR code to their Gleam campaign. All the QR codes will then be used to create the final artwork, which will then be auctioned as an NFT.
You can obtain your QR code from both the web version and the mobile app version, which you can find on the Deposit screen.
Once you got your QR code, you need to follow 4 simple steps:
Upload your QR code image in the Gleam form;
Submit your Phemex UID;
Submit your Phemex ETH address;
Follow @phemex_official on Twitter.
However, you can also earn additional entries by performing various actions, such as:
Following @jack_Phemex on Twitter;
Following Phemex's YouTube channel or their Facebook and Instagram pages;
Downloading the Phemex app, available for iOS and Android;
Referring friends.
Potential winnings
To ensure that every participant has a chance to be rewarded properly, Jack Tao, the CEO of Phemex, has offered to place an initial bid of $100,000 based on over 10,000 of participants already signed in.
After the auction ends, 10% of the participants will be randomly chosen to split the final bid. Given the initial bid of $100,000 for 10,000 participants, 1,000 users will receive at least $100 each.
Terms & Conditions
Like with all events, Phemex created a list of terms & conditions that participants must follow to be eligible.
First of all, in order to participate, all the actions on the Gleam campaign page must be completed before April 2nd. Also, the submitted ETH QR Code and ETH wallet address must be from a Phemex account. Any other QR codes will result in disqualification.
Participating with multiple accounts is also forbidden, and doing so will result in the immediate elimination of that participant from the event.
Finally, all the rewards will be paid out in ETH, and users can use them for trading or withdraw them.
Who is Phemex?
Phemex is one of the newest crypto derivatives exchanges whose primary focus is their users. It was founded by professional Wall Street traders and investors, and it supports spot trading as well as contract trading.
Phemex built a safe cryptocurrency platform with zero-fee spot trading, and it allows its users to buy cryptocurrency through various methods, including credit and debit cards, ApplePay, and bank transfers.
Stay up to date with the contest through Phemex's website and official communication channels: