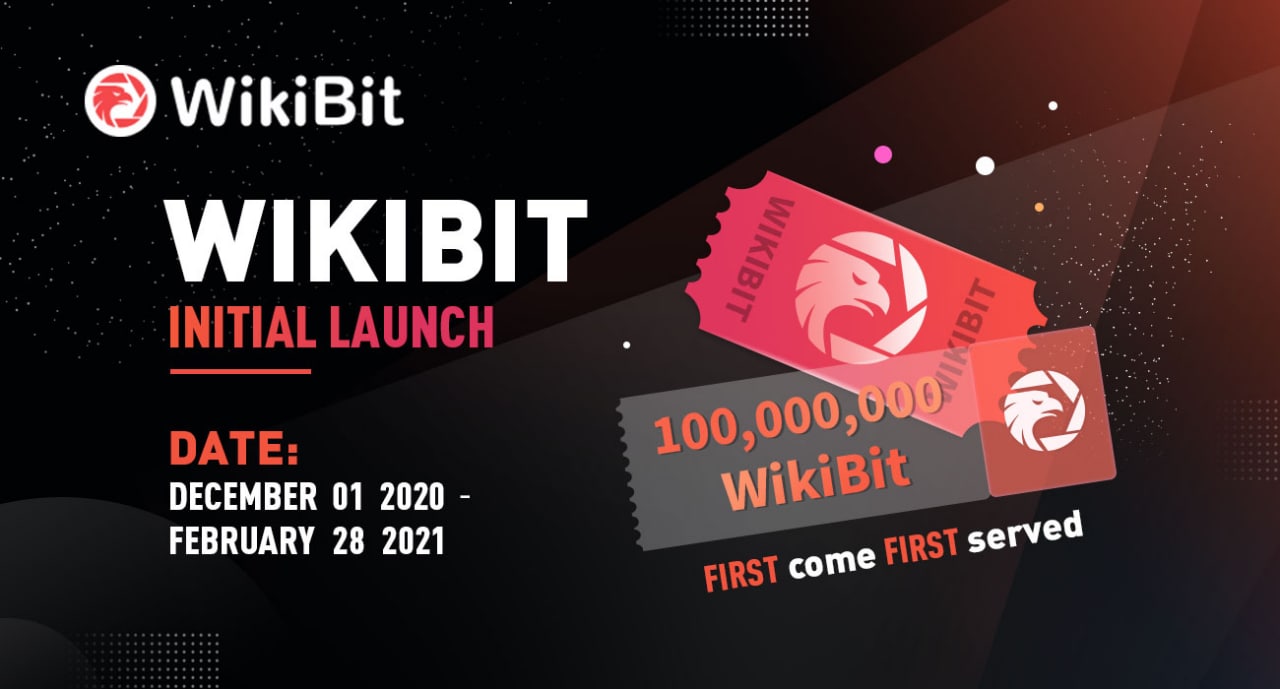 Wikibit is a project that establishes an authentic and reliable credit database system with wide coverage by connecting various credit data in series based on big-data multidimensional risk assessment and blockchain technology. Credit data was shared through a blockchain alliance to create an intelligent digital credit platform.
Distribution Plan
Total: 300 million, the amount of which remains unchanged.
This campaign: 100 million
Distribution:
1) 33% will be given to investors for marketing as a reward
2) 40% will be given away in mining
3) 20% will be reserved for future development
4) The rest, namely 7%, will be distributed to the project team
How token be used: Tokens can be gotten by investors as they invite their friends to participate in or they do field survey or give their comments. Besides, the act of data query will cost one token, part of which will be kept by the platform. The token will not be released until two years later, which makes up part of its currency to keep the platform function well.
Roadmap
Before launching
Some tokens will be put on the market as a reward to invite people to get in.
In the pre-launch phase (beta testing)
The act of doing field survey and making comments will be rewarded with some tokens. Meanwhile, the platform imports existing regulatory credit data and provides blacklist query services for some blockchain projects.
Official launching
Our mission is to cooperate with 500 organizations, enlarge our blacklist into 100,000 platforms, and increase the number of queries to more than 1 million times per month. At the same time, we will keep working on improving our tech and start to work on white list business.
After launching
Cloud mining will be available for digging tokens.
How to get WikiBit?
Open WikiBit Airdrop Page
Enter your ETH Wallet Address (ERC20)
Also, to earn additional 50 WikiBit per refer, up to 20 referrals
If the number of people invited reaches 20, an extra 500 WikiBit will be awarded.
WikiBit project team promises to reverse repurchase coins globally to make WikiBit the preferred credit currency in the world.
Join Telegram Channel: https://rebrand.ly/Telegram_WikiBitChannel
Join Telegram Group: https://rebrand.ly/TelegramGroup_WikiBit
Join WhatsApp Group: https://rebrand.ly/WhatsappWikiBit
Media Partner:
WikiFX: https://rebrand.ly/WikiFX
Airdrops.io, New Bitcoins 24/7, AirDrop BlogSpot, Airdrop Prince, ShareDrops, Airdrops.io, AirdropAlert, Airdrop King, Airdropter, AirdropsMob, ICOmarks, 99airdrops, Faucet Crypto, UseTheBitcoin, Top ICO List, Airdrop Land, MyCointainer
…
Open to collaborate: [email protected]