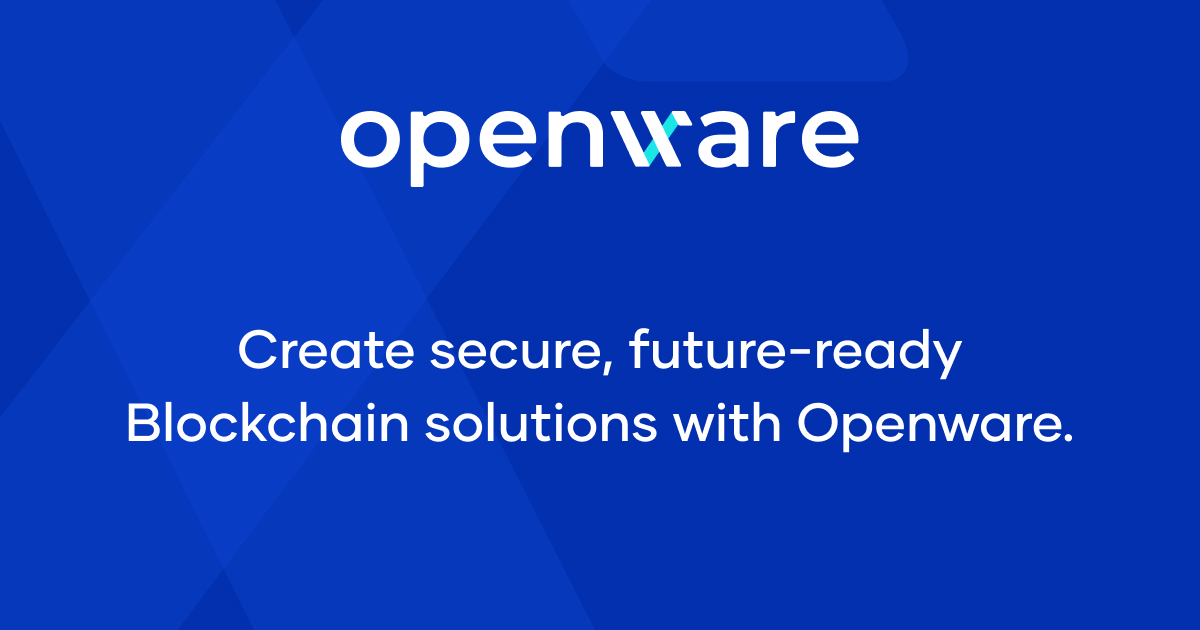 About OpenWare
Openware is a software development company that's assisting companies in earning millions.
Openware took roots in 2006 when cloud architects Louis Bellet and Camille Meulien launched Helios Technologies to offer companies an accessible cloud infrastructure in a fast-moving marketplace. Since then, Openware has provided software solutions to various industries, from banks to retail companies, helping them migrate their digital infrastructure to the cloud environment.
In 2017, Openware decided to rewrite a crypto exchange GitHub repository called Peatio, simplifying it to accommodate microservice architecture. As a result, Openware's OpenDAX opened doors for crypto businesses everywhere, providing flexible open-source cryptocurrency exchange software that companies could tailor specifically to their needs.
Today, Openware has moved its headquarters to US San Francisco while maintaining offices in France, Ukraine, and Thailand and is continually expanding its reach to cater to a global market. The company boasts a diverse workforce of experienced developers, designers, architects, support specialists, crypto business analysts, and more.
The Founders
Louis Bellet
Louis Bellet is the renowned cloud solutions and business architect, co-founder, and CEO of Openware. He has founded five organizations: WebVenture, Ant.com, ID.net, Helios Cloud, and Openware. He has proven to be an expert in his field and has leveraged his expertise to help startups streamline their operations through full-stack DevOps Cloud solutions.
Camille Meulien
Camille Meulien, the co-founder and CTO of Openware, is an established financial software architect. With over fifteen years of experience in Fintech security, Big Data, high-traffic systems, and distributed systems, he has helped companies align modern technological solutions with their business objectives.
6 Reasons to Choose Openware
#1 Open-Source Collaboration
Openware is built on open collaboration principles. The company values an open exchange of ideas among developers across the globe. Openware's software is entirely open-source and accessible on GitHub, allowing developers to enhance the code and keep it up-to-date and to industry demands and requirements. The software is developed by individuals who understand what its users need.
#2 Current DevOps Practices
All of Openware's developers are specialists. Since the software is designed to be used by enterprises, Openware understands the importance of security and scalability. Digital infrastructure is designed by experts in the field, applying bank industry-standard DevOps practices.
#3 Bank-Grade Security
Openware's software has always put the cybersecurity and security of assets at the forefront. The company offers financial platforms that banks have used across the globe. With this in mind, strengthening Openware's software is at the core of the company's activities. Additionally, Openware is ISO-27001 compliant.
#4 Continuous Improvement
Openware understands that technology is continually evolving, and this is the motivation behind the company investing thousands of dollars every year for their developers' continuous learning and education. Investment in their developers' education allows Openware to create quality software that requires no further tweaking — everything is prepared to a high standard.
#5 Commitment to Customers
Openware isn't the kind of company that leaves its customers with complex code. The company takes a hands-on approach, providing support to their clients every step of the way. Openware is committed to teaching its customers how to set up and use the software. They're the training wheels that plenty of businesses have relied on for customer learning and support.
#6 Quality Guarantee
The company upholds a commitment to clean code so that its users can easily read and modify it. Openware has multiple senior developers on board who meticulously review each line of code before the software is deployed.
Who Can Benefit From Openware?
With secure and efficient Blockchain software solutions, Openware makes it easy for companies to streamline their operations through advanced distributed ledger applications, open alternative crypto marketplaces, and deploy financial infrastructures.
Openware's cutting-edge software framework can be found in many popular applications, such as Airbnb, SoundCloud, Shopify, Twitch, and thousands more.
Openware is especially useful for startups and companies which plan to build a robust crypto-exchange trading platform, and expect to expand rapidly. Essentially, Openware provides the digital crypto infrastructure, allowing businesses to focus their resources and workforce on other business aspects.
Openware Products
#1 OpenDax
Through OpenDax, anyone can build an online crypto-exchange platform. The OpenDax software is one of its kind on the market, allowing businesses to instantly create crypto exchanges, avoiding costs associated with in-house development. With accessibility and affordability in mind, OpenDax helps businesses avoid startup costs, plus it drastically speeds up the process of setting up a crypto-exchange platform. OpenDAX gives businesses a platform where they can facilitate the trading of cryptocurrencies such as Bitcoin and Etherum.
What's New in the OpenDAX 2.6 Update?
Integration of Gnosis plug-in for multi-signature wallet support. This update strengthens the security of digital assets stored on Ethereum-based Blockchains.
PostgreSQL and MariaDB database support. Developers can develop and enhance the OpenDax platform with more flexibility, allowing them to select which particular database to tweak.
Unification of deposit wallets. Previously, users experienced multiple wallet spamming that put their wallets at risk. With the update, Ethereum-based currencies and tokens follow a unified maintenance system that saves valuable Cloud resources.
Global Withdrawal Limits. In conformance with Anti-Money Laundering laws worldwide, users can now set a Global Withdrawal Limit in different currencies.
Gas (Ethereum) rate automation. OpenDAX eliminated the need to update transaction rates manually. With the new update, transactions will automatically adjust to current commission rates.
Optimized migration to Openware Blockchain. Users only need to configure a couple of YAML-based files to install and migrate to the Blockchain stack.
Smart contract investment support. OpenDAX now supports smart contract deposits, enabling users to buy and sell cryptos without an intermediary. Let your smart contract's code automatically facilitate the transfer.
CoinGecko and CoinMarketCap Support. OpenDax can now retrieve information from API endpoints, seamlessly integrating with the software's cryptocurrency conversion services.
Account privacy. Change any user's account information such as their email address, phone number, and more. All information stored on the OpenDax stack is secure and private, regardless of email and password hacking incidents.
#2 OpenFinex
OpenFinex is an open-source order-matching platform designed for FIX (Financial Information Exchange) API and RESTful (Representational State Transfer) API. This efficient marketplace matching software can power up a business's booking services, stocks and commodities market, cryptocurrency exchange, and more. OpenFinex is one of the most productive trading engines in the world, capable of handling over 500,000 orders per second.
#3 ArkeBot
ArkeBot enables traders to automate their trading processes, manage order books, and implement bold trading strategies through fast decision-making and execution. From personal trading to portfolio management, traders can trust ArkeBot to make the hard decisions for them in the most volatile markets. Running 24/7 and providing real-time analytics, ArkeBot is the best way to guarantee success in the crypto trading market.
Openware Solutions
#1 Cryptocurrency Exchange Software
You can facilitate the trading of cryptocurrencies, security tokens, and other Blockchain-based digital assets with OpenDAX. This open-source platform provides crypto exchange businesses an efficient solution to the ever-changing demands of the marketplace.
#2 Decentralized Exchange Software
With OpenDEX, users can operate peer-to-peer (P2P) exchanges of cryptocurrencies, security tokens, and other digital assets. This innovative solution safeguards traders from impending crypto exchange hacks that put their digital assets at risk of theft. A decentralized exchange eliminates the need for a central authority, allowing two parties to trade directly without depositing their digital funds.
#3 Digital and Crypto Banking
Banks can save valuable time and money by digitizing their operations. With OpenBank, financial institutions can benefit from multi-layered security, remote banking services, electronic payment systems, and more. Plus, OpenBank enables businesses to become "crypto-friendly" seamlessly handling cryptocurrency payments.
#4 Market Making and Liquidity Provision
Cryptocurrency exchange platforms can quickly populate their books without having to worry about liquidity. With Openware's revolutionary ArkeBot, users can automate their cryptocurrency trading on centralized and decentralized platforms using hyper-fast decision-making and real-time market monitoring. Secure your profits with the most reliable trading bot in the market.
#5 Cryptocurrency Custody Software
OpenWallet is an enterprise-grade crypto custody solution for cryptocurrencies, facilitating the storage, transaction, and security of Bitcoin, Ethereum, and more. OpenWallet keeps funds safe, providing secure user access on multiple platforms. With bank-grade protection, OpenWallet ensures that crypto funds are safe and sound.
Summary
Openware supports crypto enterprises by providing cutting-edge crypto exchange software solutions that can easily be deployed and supported. Openware has developed several products that have grown into some of the most scalable and secure applications globally. Whether you're in banking, the stock market, cryptocurrency trading, and more, Openware brings innovative Blockchain software solutions to the table.
Contact Details
To learn more, visit the Openware website today or call +1 (650) 502-5022.
Github: https://github.com/openware
Telegram: https://t.me/openware
LinkedIn: https://www.linkedin.com/company/openware-com/
YouTube: https://www.youtube.com/c/Openware