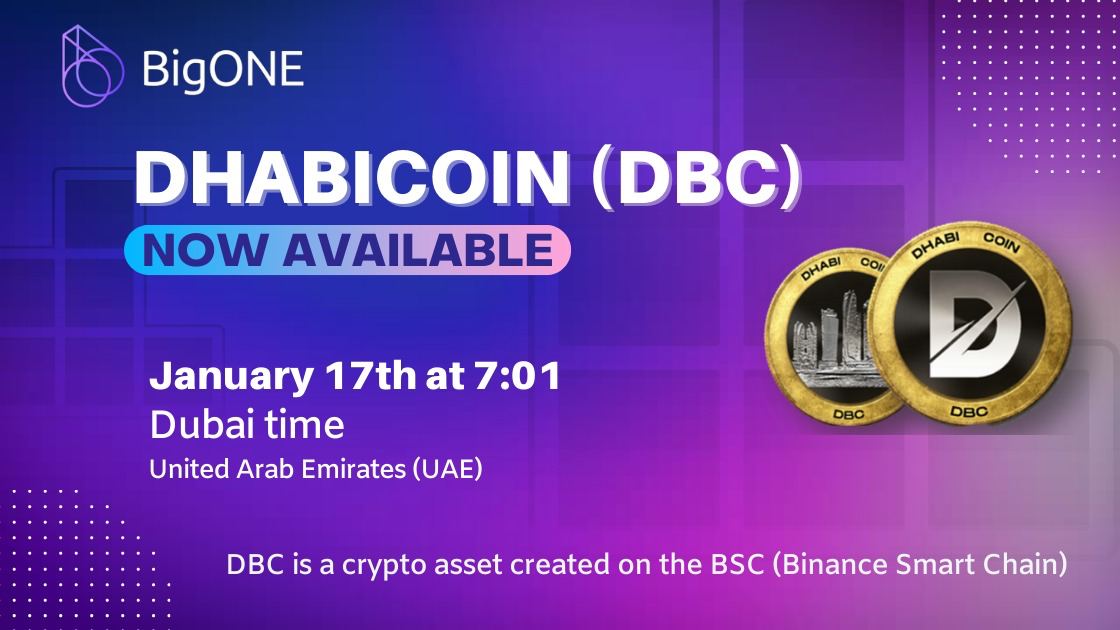 BigOne will list DBC on January 17th at 7:01 am Dubai time – United Arab Emirates.
DhabiCoin was created to simplify paths, move the market, bring technology to the sector in an accessible way and with the premise of reaching several countries around the world. The priorities were always innovation, quality, and meeting the needs of commerce with transactions without bureaucracy and wasted time. Blockchain technology shows that it is possible to increase the efficiency of financial transactions with security and high performance while the market demands more simplified and profitable processes. In just nine months of the ICO phase, DBC reached more than 30 thousand users present in about 60 countries, distributed in the four corners of the planet.
DhabiCoin's expansion plan is consolidated, well evaluated by experts in the cryptocurrency and blockchain sector. DBC passed the audit of TechRate, which is an analytical and engineering agency focused on blockchain technology solutions and audits. The project has attracted the attention of the specialized market and expanded its network of countries at each pre-sales round. In the final stretch of ICO, the management of DhabiCoin was even bolder and signed a pre-listing contract with the Dutch giant BigONE, which has in its portfolio almost two hundred cryptocurrencies and a daily volume of around 650 million dollars.
Project Details
* Project Name: DhabiCoin
* Token Name: DBC
* Project Introduction: Dhabicoin is a set of digital assets to unify many networks into a single digital ecosystem that will allow users to communicate, learn, make payments, and perform a variety of other activities. Its aim is to boost the United Arab Emirates UAE economy and
revolutionize global markets.
* Official Website: https://dhabicoin.ae/
* Total Supply: 3,000,000,000 DBC
* Contract Address: 0x220e6A613F00c79025d5611B73639E045B186fF8
*  Block Explorer:  https://bscscan.com/address/0x220e6a613f00c79025d5611b73639e045b186ff8#code